Zymurgy
released its 2011 Best Beers in America list back in June. It is a nationwide survey of homebrewers choosing their top 20 beers. 1,306 different beers from 433 breweries were represented in the poll. So why do I bring this up now?
When I travel, I'm often asked how the brewing scene is here, such was the case at the 2011 Beer Bloggers Conference in Portland last week. Arizonans consume a number of well brewed beers from places spanning the country as this list demonstrates (beers not available are in red-- my emphasis). By my count 11 or 12 (corrections welcome) American beers aren't available here depending on whether you count the recently departed from our state, Avery Brewing. All of the top imports are available here. There are a number of problems with list like these, which I don't intend to discuss. What I will tell you is that these beers represent a common set of reference points for craft beer drinkers all over the nation. With that premise, I'd argue that Phoenix is fluent in the language of beer.
Before you scan the list for Arizona beer (zero), bear in mind that most of these beers enjoy multi-state distribution and some are very near national distribution. But for perhaps Nimbus A-1 reaching San Diego and possibly the breweries in Havasu crossing state lines, Arizona beer is distributed exclusively in the state. This is famously so in the case of Four Peaks. So it would be rather remarkable for beers with such a limited scope of distribution to have an impact on a list like this. There are exceptions to this such as the Wisconsin-only New Glarus hitting number 16.
We know good beer in Arizona and I think my fellow bloggers were surprised at what we can get and drink here. They were shocked to hear that the best selling local craft was a Scottish style ale, that we recently had summer tappings of DFH 120 and that Papago brews specialty Porters year round. They thought the weather would make us succumb to light lagers at worst or cream ales at best. (I did not relate our deficiency in Witbier, Saison and refreshing wild ales, but we can keep that our secret.)
We speak beer geek here, but they are not familiar with our dialect.
See the list after the jump!
Top-Ranked Beers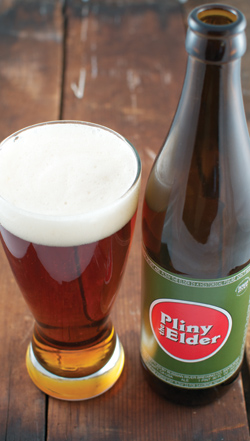 We have a three-peat! Russian River's Pliny the Elder, a double IPA, claimed the top spot for the third straight year. Finishing second for the second straight year was Bell's Two Hearted Ale, an IPA.
(T indicates tie)
Red - not available in AZ
1. Russian River Pliny the Elder
2. Bell's Two Hearted Ale
T3. Dogfish Head 90 Minute IPA
T3. Founders Kentucky Breakfast Stout
5. Bell's Hopslam
6. Stone Arrogant Bastard
7. Sierra Nevada Celebration
T8. Sierra Nevada Torpedo
T8. Stone Ruination
10. Sierra Nevada Pale Ale
11. Stone Sublimely Self Righteous
12. Sierra Nevada Bigfoot Barleywine
13. Goose Island Bourbon County Stout
T14. Great Lakes Edmund Fitzgerald Porter
T14. Oskar Blues Dale's Pale Ale
T16. Dogfish Head 60 Minute IPA
T16. New Glarus Belgian Red
18. North Coast Old Rasputin
19. Bell's Expedition Stout
T20. Deschutes The Abyss
T20. Left Hand Milk Stout
T20. Odell IPA
T20. Samuel Adams Noble Pils
T20. Surly Furious
T20. Troegs Nugget Nectar
T26. Rogue Dead Guy Ale
T26. Samuel Adams Boston Lager
28. Anchor Steam
T29. Bear Republic Racer 5
T29. Ommegang Three Philosophers
T29. Oskar Blues Ten Fidy
T29. Three Floyds Alpha King
T29. Three Floyds Dark Lord
T34. Avery Maharaja
T34. Dogfish Head Indian Brown
T34. Dogfish Head Palo Santo Marron
T34. Three Floyds Gumballhead
T38. Dogfish Head 120 Minute IPA
T38. Lost Abbey Angel's Share
T38. New Belgium La Folie
T38. New Belgium Ranger
T38. Oskar Blues Old Chub
T43. Ballast Point Sculpin IPA
T43. Great Divide Yeti
T43. New Belgium 1554
T43. Russian River Blind Pig
T43. Ska Modus Hoperandi
T48. Alesmith Speedway Stout
T48. Dark Horse Crooked Tree
T48. Green Flash West Coast IPA
T48. Summit EPA
T48. Victory Prima Pils
Top Imports
1. Rodenbach Grand Cru, Belgium
T2. Fullers ESB, England
T2. Guinness, Ireland
T2. Rochefort 10, Belgium
T5. Duvel, Belgium
T5. Saison Dupont, Belgium
T5. St. Bernardus Abt 12, Belgium
T8. Ayinger Celebrator Doppelbock, Germany
T8. Cantillon Gueuze, Belgium
T8. Chimay Grande Reserve, Belgium
T8. Orval, Belgium
T8. Samuel Smith's Nut Brown, England
T8. Unibroue La Fin du Monde, Canada