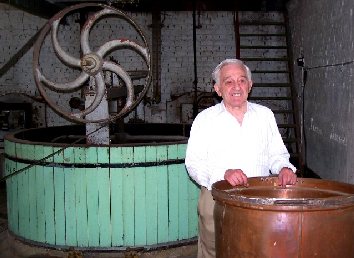 Pierre Celis (Beer-Pages.com)
I didn't intend to write anything about the
passing of Pierre Celis
last Saturday, however, you can't write around such a seminal figure in the beer world for very long. It turns out, it was only a matter of days until there would be a reason to discuss Celis.
Today, Avery Brewing Company of Boulder Colorado
announced
that it plans to withdraw from 8 states including Arizona. Most of the buzz online in Phoenix seems to mourn the loss of Maharaja IPA, The Czar, The Reverend and other heavy-on-house-character flavorful high gravity ales. My first thoughts turned to White Rascal, Avery's take on a Belgian Wit. When discussing wit and the popularity of Belgian beers in the US, all bloodlines lead back to Pierre.
Celis' decision to change careers and brew an extinct style at the age of 40 in 1966 is undeniably the reason wit bier is a popular and widely available beer enjoyed by both casual and critical beer drinkers. This pale to straw colored crisp, mouth quenching beer has floral, perfume-like and spicy aromas and flavors. Orange, coriander, chamomile, cumin, cinnamon, Grains of Paradise and lactic tartness can vary in intensity, but the best examples are subtle and complex. It's a style of beer that fits the hot climate here. The dry tart finish is a natural.
White Rascal was becoming a fixture on tap at several Valley bars including The Main Ingredient. It was a fresher choice than a Hoegaarden (though perhaps more heavy handed on the flavor intensity). It was clearly a better choice than Blue Moon or Shock Top and it was available in bottles at grocery and liquor stores. The Colorado canned version was soon to follow or so it seemed.
So what will fill the void? Wasatch? Alaskan? New Belgium Mothership? Perhaps. Locally, one could get BJs GAFB medal winning Nit Wit, but really only in their locations. The Rock Bottom version that I had just yesterday seemed to have used the more celery-like Mexican variety of coriander which is considered a flaw. One other local wit is clearly
problematic
.
In the short-term, the departure of White Rascal is a loss for Phoenix, but it also represents an opportunity for a local brewery to fill the void. One wonders if this will happen before my personal favorite, the milder and elegantly delicate Allagash White, makes it to the Valley and gains prominence. We know from Pierre, that anything is possible.